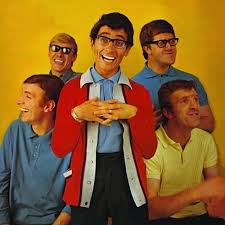 It goes without saying that in the early 60s everyone in the world was aware, to varying extents, of The Beatles. Certainly in the UK they dominated music, culture, the media and even, to a degree, politics. But there were many other acts around and, because of The Beatles, a few acts from Liverpool enjoyed a huge amount of success, known as The Liverpool Explosion. Some deserved it, such as Gerry and the Pacemakers and some were just incredibly lucky to surf in The Beatles' wake (yes, I'm looking at you Cilla and Tarby).
One band who certainly benefitted from The Beatles' success was Freddie and the Dreamers, who although seen as being part of the Liverpool explosion were actually from Manchester. They even had a pre-fame residency in Hamburg in the very early 60s and for a short time during the early to mid-sixties Freddie and the Dreamers seemed ubiquitous, they were never off the telly, had a string of hits, even number 1s in the US, and had legions of screaming fans. This was quite incredible for a band who could not have been more different to The Beatles.
Everyone liked Freddie and the Dreamers. They were the sort of band that even your elderly relatives liked because their music was jaunty, melodic and inoffensive and Freddie Garrity even had a pleasant singing voice. But what set Freddie and the Dreamers apart from other bands was… he leapt up and down! This was their USP. As well as Freddie leaping around The Dreamers had a whole repertoire of jerky dance movements. This meant they were safe to feature on Blue Peter, Top of the Pops and Sunday Night at the London Palladium (See Tarbuck Memories: Sunday Night at the London Palladium below) and wouldn't frighten the horses like some of those other hairy, druggy, dirty bands like The Tremeloes or The Hollies.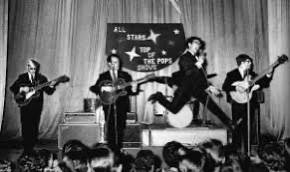 Between 1963 and 1964 they had 4 top ten hits including 'I'm Telling You Now', which was also a number 1 in the US in 1965, and 'You Were Made For Me.' Their fame in the US in 1965, though brief, also led to them being touted for a TV series co-starring Terry-Thomas which would have pre-dated The Monkees but this, sadly, came to nothing. And it was their comedy element which led to them appearing in a few British films and also secured a long running TV series for them in the late 60s.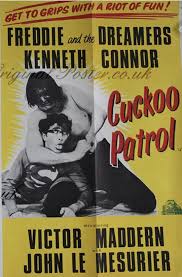 The late 50s and early 60s saw an explosion of British films aimed at the emerging teenage market. Film companies desperate to get in on the act rushed out, often threadbare, vehicles for singers and bands who just happened to be popular at the time, often fleetingly so, and in many cases these featured acts were no longer popular when the film was eventually released. In 1965 Freddie and the Dreamers were given their own star vehicle, Cuckoo Patrol, in which they played a troop of boy scouts who inadvertently get involved with some criminals planning a robbery. The results were, unfortunately, not hilarious as ten out ten film reviewers on IMDB rated it 1 star out of 10, some of the more positive reviews referred to it as the 'worst British film of all time.' Harsh maybe but having viewed it, it is pretty poor although with a few odd redeeming features which may not have been obvious when it was released. Recently The Independent called it 'Terrifying.' For some reason, I can maybe guess why, it was shelved for two years and only released in 1967, a couple of years after Freddie and the Dreamers had had their last hit. The film experiments with their often anarchic sense of humour which would be utilised more effectively in a TV series launched a year later. It was also reported that some American states banned the film, not for being truly awful but for belittling the Scout movement.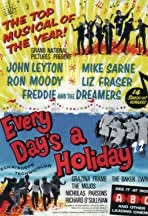 The very fast moving world of 60s pop also saw them appear in 1965's Every Day's A Holiday, set in a holiday camp it was a vehicle for unexceptional crooner John Leyton who'd had a couple of monster hits including Johnny Remember Me two years previously. Also starring Mike Sarne whose big number one, the intensely irritating Come Outside, was three years old. The film itself is a strange but enjoyable romp which does evoke the seemingly carefree world of the sixties holiday camp and the perfect platform for Freddie and the Dreamers to hone their musical comedy skills as a bunch of chefs. Needless to say chaos ensued…! The film also featured such well-known 60s and 70s comedy faces as Richard O'Sullivan, Liz Fraser, Nicholas Parsons and an uncredited Danny La Rue.
In March 1964 at the height of their success they headlined an episode of that weird Genxculture favourite, Sunday Night at the London Palladium (Catch it on Sunday nights on Talking Pictures TV, you won't regret it Tarbuck Memories: Sunday Night at the London Palladium). The host Bruce Forsyth, as he was about to introduce them, said 'They're here!' without even mentioning who exactly he was referring to, suggesting this was a very hot ticket indeed, to the high-pitched squeals of some of the audience. After playing a medley of their big hits Freddie announced to the well-heeled Palladium audience, 'Welcome t'Labour Club!' Nice one Freddie. Almost as good as John Lennon's exhortation to 'rattle your jewellery' a couple of years previously. They went through a series of their song and dance numbers with the band at various times falling on the ground and being picked up again while Freddie bounded acrobatically back and forward across the Palladium stage. Their act looked exhausting.
Freddie was an unlikely sex symbol. At 5'3" with glasses like the bottoms of milk bottles (he did actually work as a milkman before his success), he leapt about on stage to the joy of the , probably slightly older female, audience. Keith Richards once even referred to him, rather disdainfully, as 'A certain English leaping gentleman'. The band were no great lookers either but what they lacked in sex appeal they made up for in anarchic humour and silliness. After their initial chart success they worked constantly in pantos and summer seasons and, oddly, in their own TV series Little Big Time.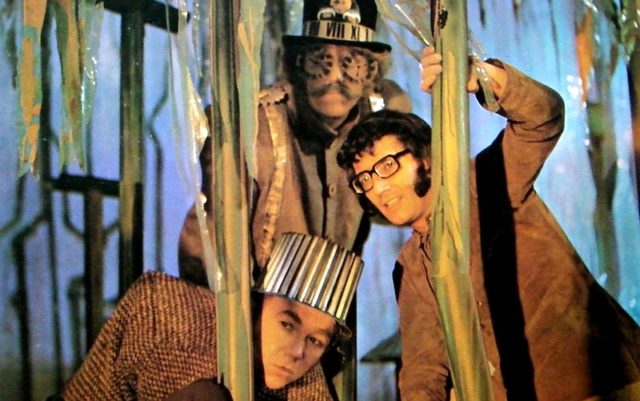 Starting in 1968 on Wednesday afternoons Little Big Time was a children's variety show which exploited the comic abilities of Freddie Garrity and The Dreamers, particularly guitarist Pete Birrell who turned out to be a comic genius. The comedy was chaotic in a good way and extremely daft, similar in many ways to the brilliant late 60s pre-Python for children, Do Not Adjust Your Set. The end of the show always had the band fighting over who was going to press the button to start the end credits rolling. It was funny, it really was. It also featured some quite strange variety musical and magic acts. Interestingly, one of the writers for the first two series was Andrew Davies who became a screenwriting household name and went on to write a range of original TV series such the excellent and greatly underrated A Very Peculiar Practice and a host of Hollywood films. In series 2 a story was introduced about Freddie entering a world ruled by, often quite scary, machines called Oliver in the Overworld. The story was surreal and strangely compulsive not to mention slightly disturbing. True groundbreaking children's telly. This series eventually replaced Little Big Time and only featured Freddie without his Dreamers. Sadly, only one episode of this long running, fairly revolutionary, series is thought to survive.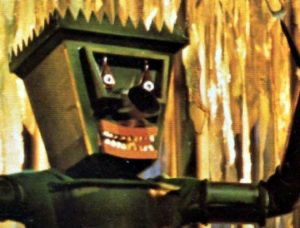 Freddie and the Dreamers continued to tour with various line-ups and Freddie appeared on a number of TV programmes as himself, including the inevitable Wheeltappers and Shunters, sitcom Dear John (as well as the US version) and the even more inevitable Heartbeat, where his unlikely role was as a drug dealing DJ. He gave up performing in 2001 after he was diagnosed with emphysema and died in 2006 at the age of 70.
Freddie and the Dreamers were different to The Beatles in just about every way but for a short glorious time in the early sixties, they were just as famous.