Few TV theme composers could hold a candle to Tony Hatch, with the exception of the great Ron Grainer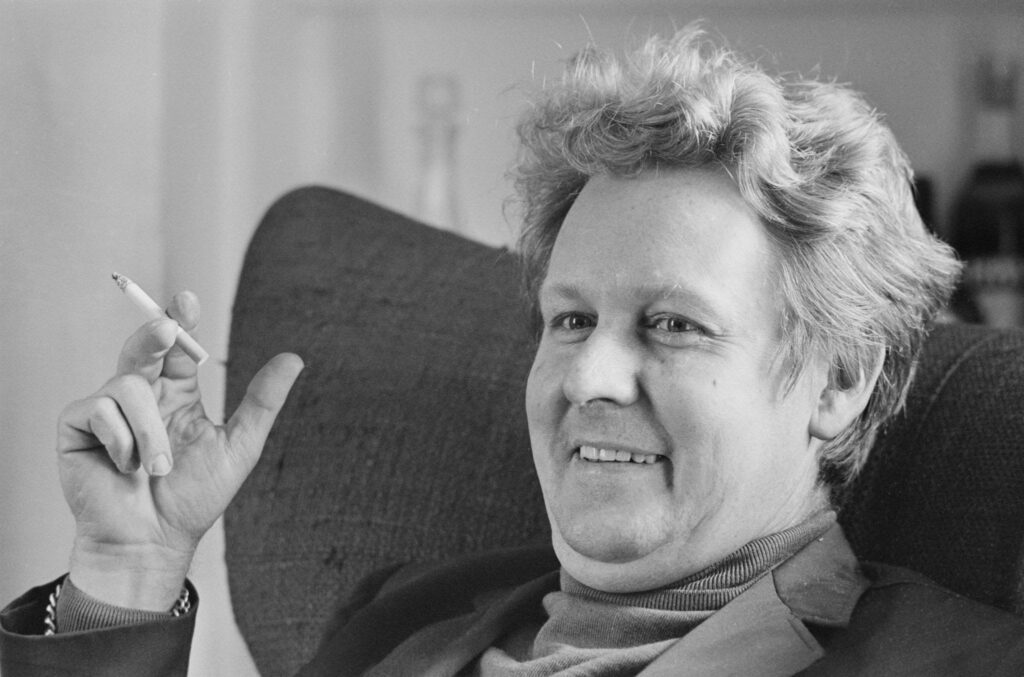 For me the composer of the TV soundtrack for the 60s and 70s was the great Tony Hatch (much more about him below Tony Hatch: Composer Of The Soundtrack For The 60s And 70s), but chasing him all the way for this prestigious title was Australian composer Ron Grainer who, had he lived longer and not died at the tragically young age of 58, could have wrested this title from Tone. Although not quite as well known as Hatch, Grainer's TV and film themes are world-renowned and still heard regularly today. No one over the age of 40 will be unfamiliar Grainer's output with many of his themes still played on daytime telly. It's also fair to say that he composed some the most important and memorable theme tunes for TV series that have stood the test of time and his themes are synonymous with those programmes. So, step forward and take a bow, the mighty Mr. Ron Grainer!
Ron Grainer moved to the UK in 1952 having grown up in the Australian outback, mostly in a small mining town called Mount Mulligan and served during WW2. After a tough few years playing with a band and submitting compositions to anyone who might use them, he even wrote a song and entered it into the 1956 First British Festival of Popular Song. His entry, England Made Us received nil points from the judges.
Not put off by this disappointment Grainer wrote another song for this same competition in 1957, which had become the decider heat for the song which would represent UK in its first foray into the Eurovision Song Contest. His ditty, Don't Cry Little Doll was performed by, of all people, Bill Maynard who would go on to have a pretty successful comedy and acting career in programmes such as Heartbeat and Oh No! It's Selwyn Froggat! After a labyrinthine process Grainer's song came 4th and Patricia Bredin was selected to represent UK at the still rather stuffy event. She came 7th out of 10 with 'All.'
In 1959 ITV broadcast a TV play entitled Before The Sun Goes Down, the format of which was based loosely on Orson Welles' groundbreaking War of the Worlds radio production. Grainer had written the music for the play which reportedly panicked listeners and questions were subsequently asked in parliament about it. Clearly people were a little more gullible in those days but it's a surefire way of becoming noticed and shortly after he was asked by the BBC to compose the theme tune for a new programme that was about to launched. The programme was called Maigret based on the French detective novels of Georges Simenon, the show was a huge hit and Ron Grainer, TV themes composer was born.
Maigret was broadcast for four years and 52 episodes and the theme tune entered the UK charts on the 4 April 1962 performed by The Joe Loss Orchestra. A nice little earner one would imagine for Ron Grainer, but, more importantly, he was becoming known as not only a TV composer but a successful TV composer. And he was never to look back….
It wouldn't be long before Ron Grainer was penning themes that would not only become very familiar to the viewing public but would still be played and recognised 60 years later. It would be impossible to list everything that Grainer composed during his 30 year career so here's selection from his prolific output since the early sixties up until his sudden and premature death in 1981.
Maigret (1960)
Grainer's use of harpsichord, banjo and clavichord created a typically, even stereotypically, Parisian sound and soundtracks to many French-based programmes even today recreate this sound. Grainer won an Ivor Novello award for this composition which set him on track to becoming the go-to composer for TV theme music. It's fair to say, though, Tony Hatch competed with Grainer from the mid-sixties for this mantle but both were incredibly creative and innovative composers who worked constantly and were responsible for iconic themes throughout the following 20 years.
Partly due to the huge popularity of Maigret, the theme became a hit record in 1962 spending 10 weeks in The Hit Parade reaching a high of 20. Not for Grainer, however, but for popular band leader Joe Loss. Nice little royalty cheque for Ron as composer, though.
Interestingly, Tony Hatch's breakthrough theme was for tea-time serial drama Crossroads in 1964. Few people over the age of 50 will be unfamiliar with this theme and I would argue that the unusual combination of guitar, oboe and drums is key to this theme's endurance. Long after Crossroads was destined to that multi-story car park in the sky, the theme is still synonymous with that long-running programme (See Standing At The Crossroads Of (TV) Quality). And such is the case with so many Ron Grainer themes, not least……
2. Doctor Who (1963)
What's the UK's most well known TV theme tune? Coronation Street? Eastenders? Steptoe and Son? Actually I'll come back to that one shortly… It's fair to say, I think, that the Doctor Who theme must be up there, and not just because of longevity. First broadcast at 17.16 GMT on Saturday, 23 November 1963, 80 seconds after its original launch time due to the extended news coverage of the assassination of President Kennedy, the programme has endured for nearly 70 years, although the series was cancelled in 1989 but returned in 2003 with a much bigger budget and new younger audience.
Producer Verity Lambert had wanted the theme to sound 'familiar but different' and by this time go-to composer Ron Grainer was asked to come up with something. His original theme was written on a single sheet of manuscript paper and sent to Lambert who then sent it to the legendary BBC Radiophonic Workshop for treatment under the supervision of the great electronic innovator Delia Derbyshire. The results were groundbreaking and the music became one of the first ever electronic theme tunes. Derbyshire's sonic 'bubbles' and 'clouds' pulled back the boundaries of theme music forever.
Grainer was reported as saying 'Did I write that?' on hearing the 'doctored' version. He was so impressed he offered to split the royalty fees with Derbyshire but BBC policy at the time would not allow this.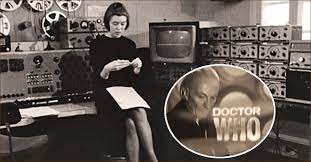 The signature tune has become so familiar (I hesitate to use the overused term 'iconic') that it has given birth to many wide and varied versions by artists from very different genres. For example:
Doctor No. 3 Jon Pertwee released a spoken version of the theme entitled 'Who is The Doctor?' It didn't chart although he did latterly have some success in a different incarnation with 'Worzel's Song' reaching No. 33 in 1980. Talking about incarnations, Pertwee was producer David Croft's first choice to play Captain Mainwaring in Dad's Army. Similarly, Pertwee was second choice for the role of Doctor Who in 1970. First choice was Ron Moody who had just had a world wide smash in his role as Fagin in Best Picture Oscar winner Oliver!. Just fancy that!
In 1988 The Timelords (who were really KLF in disguise) released Doctorin' The Tardis. This was a mash-up of the Doctor Who theme, Sweet's Blockbuster and Gary Glitter's Rock and Roll Part 2, which maybe accounts for why we don't hear it very often on the radio these days. Which is a shame as it's a banging record and did get to the much vaunted No. 1 spot in the Hit Parade on 12 June.
In 1999 the excellent Orbital released a version of the Doctor Who theme which was used on BBC 2's Doctor Who Night in 1999.
Legendary Shadows' guitarist Hank Marvin recorded a version in 2017 on his solo album Without A Word.
Matt 'Stephen Toast' Berry recorded a version on his 2018 album TV Themes.
Although brought up to date for the 2003 much-bigger-budget version of the series, the original Grainer/ Derbyshire version still sounds uniquely innovative even today.
3. Steptoe and Son (1962)
And talking about Steptoe and Son, Grainer composed Old Ned in 1962 for a different kind of sitcom (although this term for a type of TV generic comedy did not exist then). The plot written by Ray Galton and Alan Simpson was very different to most other comedy shows as it featured working class characters and had a strong social commentary woven into the story of father Albert and son Harold who ran a West London rag and bone business. It was groundbreaking in that much of the dialogue was ruder (by 60s standards at least) than any other programme on telly. It was the first time I had ever heard the word 'tits' on TV when Harold bawled at Albert, '..because you get on my bleedin' tits!', an expression which became commonplace in our language from then on. I can still remember my dad guffawing at this line. During an episode when some posh fashion models were going to be arriving at their less than salubrious abode to do a photo shoot, Harold told Albert '..and if you need a Doyle'y Carte you can go outside!' Sometimes the relative rudeness of the time slipped under the average TV viewers' radar. Which was a very good thing.
The theme puts in mind the plodding nature of Harold and his horse and cart pounding the streets of West London day after day with his horse Hercules, even although Grainer titled it Old Ned. Was Old Ned a horse or just a London character? We may never know but the lugubrious melody and sound of the horses hooves created a musical motif which fitted the pathos and down-beat comedy that Steptoe and Son invented.
The theme won Grainer his second Ivor Novello award and was later reprised by Vic and Bob on Shooting Stars when Vic would go for a 'cockney walkabout' around the studio. The first version of this theme was recorded by those stalwarts of 70s TV variety, Geoff Love and his Orchestra, who would go on to have 70s hits wearing the sombreros of Manuel and his Music of the Mountains.
No one over the age of 45 would fail to know this was the Steptoe and Son theme. Another Grainer theme which will last for as long as we have TV.
4. Man in A Suitcase (1967)
If Doctor Who and Steptoe and Son were pulling back the boundaries of their respective genres then so was Man In A Suitcase. MIAS was a grittier, more violent, more existential action series compared to other similar thrillers of the time such as The Baron, The Champions (which did have an excellent Tony Hatch theme) or Department S and featured a mysterious American ex-FBI character known only as McGill. Having been hounded out the FBI for dubious reasons he now made a living working as a private detective all over Europe, but particularly in London. The series ran for only 30 episodes between 1967 and 1968 and featured a who's who of British and sometimes American character actors. The theme music was catchy, punchy, big and brassy. Certainly not jaunty or inspiring as those were themes deliberately lacking in this superior and wonderfully cynical thriller series. Soft-spoken hard man with a sensitive side, McGill, played by Method actor Richard Bradford was a new kind of anti-hero and forever associated with this ear- worm of a Grainer theme.
The theme was also used for the irritating Chris Evans in his vehicle TFI Friday for a number of years during the late 90s.
For me, one of his best.
5. The Prisoner (1967)
And talking about his best, and there are plenty candidates given his prodigious output, for me his crowning achievement was for a series which has entered TV folklore. Although over fifty years old, certain people, like myself, still analyse and counter-analyse each episode with meticulous precision. Yes, we're talking The Prisoner here, and, yes, I do need to get a life but it's gone too far to bother about that.
Without going into details about Patrick McGoohan's masterwork, suffice to say a British secret agent, which incidentally was the name of the forerunner to this series in the US also starring McGoohan, here it was called Danger Man, wakes up in a mysterious coastal village where he was being constantly monitored by ever changing authority figures known as No.2 and bullied by huge white balloons. But who was No. 1? McGoohan's character was only ever known as No. 6 and the subsequent 17 episodes showed him trying to escape in ever more creative and sometimes downright strange ways. Nothing had ever been seen on TV that even resembled The Prisoner and it showed just how innovative and risk-taking TV, and particularly ITV, was during this period of broadcasting history. Call it Orwellian, Kafkaesque, surreal or just plain stupid, it was without doubt something very different in a wonderfully 60s psychedelic way.
But who could provide a suitably enigmatic theme to grace such an epochal TV series?
The opening titles were the same most weeks, with a couple of exceptions. A very angry man is seen resigning from a shady underground organisation and as he returns to his flat and packs to go abroad (or so we are led to believe) a mysterious undertaker arrives and gas suddenly emerges from his door and his world begins to spin. He wakes up in what seems to be his flat but on opening the blinds he is in a strange almost picturesque village. And this is where the story really begins..
Grainer's amazing theme, stretching to nearly two minutes, provides an urgent musical backdrop to the show's opening credits in an almost operatic way. Moving effortlessly from excitement to anger to intrigue and ultimately to mystery, no musical theme has even come close to providing such context for an opening title sequence. Like all Grainer compositions it's catchy but it's arrangement oozes class right down to the timpani that McGoohan insisted on. Every instrument, every flourish of the electric guitar, every blast of the brass section and dip of the organ, not only blends with the action but pushes it forward incessantly. The viewer is left in no doubt as to what is happening, how the character feels, where the action is heading.
Without doubt, the work of a master.
6. Tales of The Unexpected (1979)
Ron Grainer left the UK in 1968 to take up residence in southern Portugal, partly due to a desire for a quieter life than the one he was experiencing in an increasingly busy London and also as he was having sight problems and thought this would benefit from the Portuguese light. His output slowed down slightly due to other rustic commitments abroad but he still provided one final masterpiece for a new series which was being broadcast by Anglia TV in the UK.
Tales of the Unexpected was a series based on Roald Dahl short stories from his books of the same name as well as Kiss, Kiss and Someone Like You. Dahl introduced all the episodes from series one and some from series two and three. The series continued for over ten years and other writers provided stories in a similar genre.
The ITV series had a fairly generous budget which was spent on guest stars rather than elaborate sets and was a huge hit. Another who's who of brilliant British character actors as well known Hollywood thesps appeared at some point in TOTU such as Rod Taylor, Jose Ferrer, Janet Leigh and Brad Dourif.
I've referred a few times in this little blog space to TV series which I feel are enhanced by their memorable musical themes, the obvious example being 70s Amsterdam based policier Van Der Valk.. And I would argue that TOTU sustained for so long partly due to its incredibly clever and grindingly memorable Ron Grainer theme. No one over the age of 40 will be unfamiliar with this theme and if hearing it for any reason, it will play away in their head for at least the rest of the day.
Grainer is said to have written the theme with the psalm (or is it a hymn?) All Things Bright And Beautiful in his mind. The cadences are certainly similar but it's this theme that would be providing an ear-worm for me rather than the rather turgid psalm. Its jaunty almost fairground melody and instrumentation belies the grimness and sometimes grand Guignol elements of many of the stories. Personally, I've always found fairgrounds and circuses quite creepy backdrops for stories of this nature. Have a look at the opening sequence to the brilliant 70s series Journey To The Unknown and you'll see what I mean.
A few years ago while listening to the Shaun Keaveney show on Radio 6 Music, a listener phoned in to Small Claims Court to reveal he had met the woman at a wedding who had performed the strip routine during the opening titles of TOTU. I wonder if she received a royalty every time the programme was broadcast? If so she could thank Ron Grainer for a fairly lucrative gig.
As usual Grainer hit it out of the ball park and I sometimes wonder if the series would have gone on for so long without his theme.
With a few notable exceptions this was arguably Ron Grainer's last masterwork. He wrote many, many other TV signature tunes as well film scores but the above are what I consider to be the shining lights in his back catalogue.
Ron Grainer died at the tragically young age of 58 in 1981 from spinal cancer. Had he lived he'd have been vying with the other TV theme maestro Tony Hatch as the greatest ever. But Grainer left enough of his prodigiously talented themes to be remembered always and to be spoken about in the same respectful breath as Hatch.
Truly the Wizard from Oz.