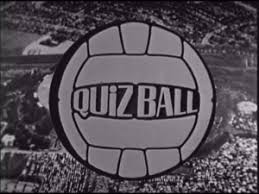 ..and the curious case of the guest supporters.
In my previous post on The Girl From UNCLE I stated that in the late 60s Thursday was a particularly good night on the box. This, of course, happened rarely as with only three channels, TV stations bent over backwards to try and appeal to everyone which, inevitably, they never did. But Thursday night! Not only did we have Top Of The Pops and The Man From UNCLE and The Girl From UNCLE (at least every alternate week) but we also had Quizball! And the exclamation mark is not my own, it actually did have an exclamation mark in its title! (That one was mine). And so it should have.
To anyone under the age of 55, this programme will mean very little, if anything, although most people will be aware of the programme's most famous legacy. But to old people like myself it was one of the most exciting TV appointments of the week. To watch it now, and you can watch the very first episode on Youtube, it seems pedestrian, formulaic, amateurish and just pretty dull. But watching in 1966 this was a rare chance to see footballers in the flesh, so to speak, to hear them talk and see them in a completely alien situation. This was BIG in 1966. Not only that but, if you were lucky, you might even see your own team on the programme. What wasn't to like? And there was something quite thrilling to see those players you'd watched on the pitch sitting in their three-piece suits, awkwardly trying to answer questions and bantering with the opposing team.
The format was pretty straightforward, although you wouldn't think so to watch that first episode on December 22 1966. In short, two teams representing a British football club of the time, made up of players, managers, even club secretaries occasionally PLUS a 'Guest Supporter', took on another team from Scotland or England in a battle of general knowledge. Now the 'Guest Supporter' was a particularly interesting element of Quizball! for me, which I'll come to presently.
The question master (more on him shortly) would ask one team which route to goal they would like to take in an attempt to score. Route 4 comprised 4 easier questions, route 3 was 3 slightly more difficult questions, and so on. Route 1 was the most direct route where to answer one particularly difficult question would result in a goal. HOWEVER, the opposing team could tackle by answering a question at any point and if successful, stopped the goal being scored and took possession. (You keeping up?) To this day when commentating on a match on TV commentators will still use the term 'Route 1' to describe a team taking the long ball route to goal. A lasting legacy of Quizball! (its exclamation mark).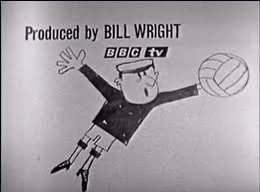 A drawn game would be settled with an extra-time question as there always had to be a winner. Teams from England and Scotland were invited to take part over the eight series which lasted from 22 December 1966 until the last episode almost exactly six years later on 23 December 1972.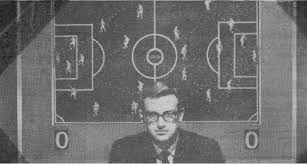 Quizball! had three presenters over its eight series, all sports commentators of some description. Presenter number one was the peerless David Vine. A host and commentator on pretty much every sport and sports' programme during his long career, Vine had just joined the BBC in 1966 and this was his first big gig. Like the great David Coleman, Vine was the archetypal 'safe pair of hands' as his professional, unflustered , measured approach suited the BBC down to ground. He hosted and commentated on the Olympics, World Snooker Championship, Darts, Showjumping and was synonymous with Ski Sunday which he presented for 18 years until 1996. He was also deemed safe enough to host Miss World contests during the 70s, preceded Stuart Hall (probably not quite as safe) as first commentator on It's A Knockout and Jeux Sans Frontieres, a number of stints on A Question Of Sport and even commentated on the 1974 Abba Euro Song Contest from Brighton. A pro in every sense of the word, his handling of the first episode of Quizball!, where players were still uncertain of the format, was masterly. After two series Vine moved on and was replaced for a year by Match of The Day's Barry Davies, with that man Stuart Hall again chairing the final two series between 1970 and 1972.
And let's not forget the jaunty theme tune written by the great Mr Tony Hatch. He had also written the memorable theme music for Sportsnight With Coleman, which anyone over the age of 50 will remember. (OK 55…), amongst many, many other TV themes and hit songs. (See Tony Hatch: Composer Of The Soundtrack For The 60s And 70s ). During the early 70s when football on TV was severely rationed, this theme was as exciting as it got as we knew we were going to get some grainy black and white images of a random football match. Kids today wouldn't understand.
The first episode of Quizball! featured Arsenal and Nottingham Forest in front of a boisterous live audience at Hornsey Town Hall. Arsenal comprised manager Bertie Mee, players Ian Ure and Terry Neill and guest supporter BBC Radio DJ and former crooner Jimmy 'TTFN' Young. Nottingham Forest were represented by manager Johnny Carey, players John Barnwell, Forest legend Bobby McKinley (who played for Forest for nearly 20 years) and guest supporter TV farmer Ted Moult. Mckinley (who was still playing for Forest), Carey and Moult all puffed away on pipes throughout the show and each time we had a close-up of a player answering a question, a thick plume of smoke would drift past. But that was the 60s!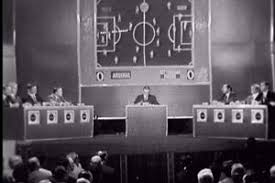 The first ever edition of Quizball from Hornsey Town Hall!
Celebrity farmer Ted Moult was a very familiar face on TV and voice on radio throughout the 50s, 60s and 70s. A regular contestant on various quiz shows, he was the agricultural expert on radio's Any Questions, the subject of This Is Your Life in 1965, Desert Island Discs in 1959 and the face of Everest Double Glazing ads in the early 80s. Tragically he took his own life in 1986 during a bout of depression and when bad weather threatened his farm's crops. He did receive the greatest accolade an 80s celeb could wish for, however, having a song by Half Man, Half Biscuit named after him , D'ye Ken Ted Moult.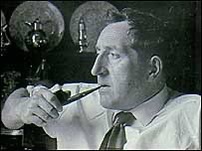 The ubiquitous Ted Moult
But it was the participation of these 'Guest Supporters' that raised the interest level of Quizball! from being merely footballers attempting to answer general knowledge questions to a show which featured a curious group of celebrities who claimed to have an affiliation with a particular football team, and it was often these celebrities who raised the competition to a level well above what it it might have been. Maybe to begin with on Quizball! the celebrities did have an affiliation with the football club but that link began to become a little more tenuous as the series developed.
For example, take Leicester City. Their guest supporter in the first series was the well known panellist of the long running radio and TV quiz series What's My Line, Lady Isobel Barnett, who also just happened to be only one of two women to appear on the show during the six years it was broadcast. Leicester scored 9 goals on the way to the semi-final in 1966 with Lady Barnett scoring 7 of them. Although born in Aberdeen she lived in Leicestershire, hence the affiliation. For some reason when Leicester City took part in two subsequent series she was dropped and replaced by Grandstand's Saturday lunchtime Football Preview host and producer, Sam Leitch and then Nicholas Parsons. Sam Leitch was also Scottish, born in Glasgow, and I distinctly remember him explaining to viewers when asked who he supported, that his grandad took him to watch Third Lanark as a boy. Parsons links to Leicester also seemed tenuous to say the least, born in Grantham and living in London. But who cared? They were well known to the Quizball! faithful.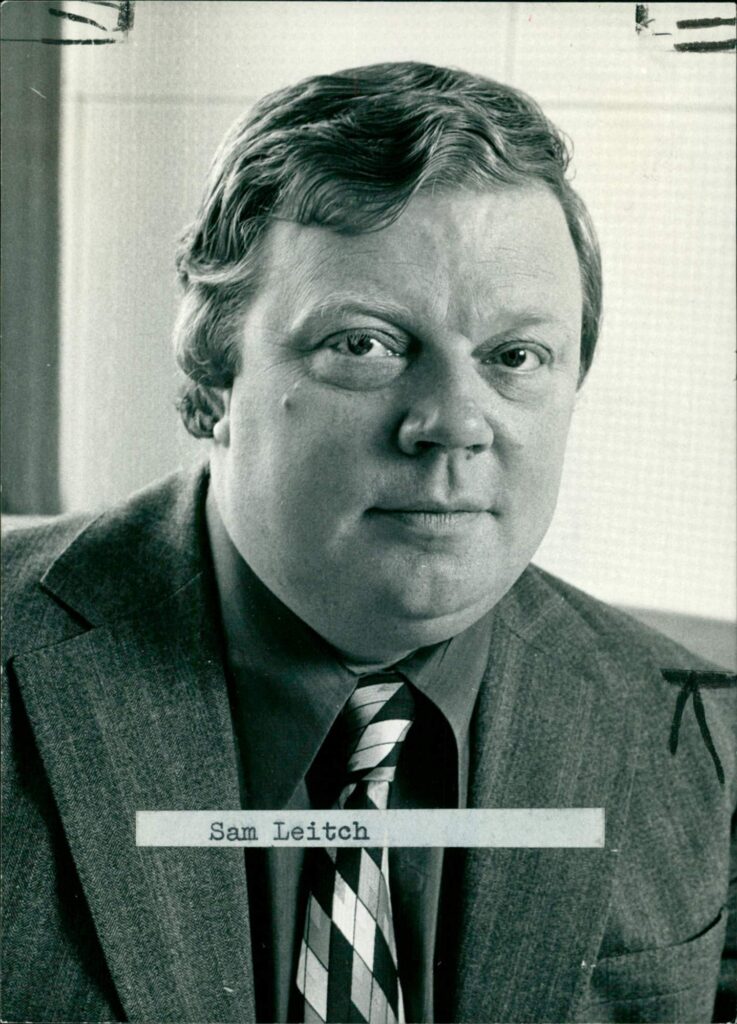 Dunfermline Athletic FC, a very successful Quizball! team over the 8 series, also had an odd relationship with its guest supporters. In their first appearance in 1966 they were represented by prolific Dunfermline-born Scottish actress Ellen McIntosh who, despite a narrow 1-0 win versus Sheffield Wednesday, was replaced in the later rounds by even more prolific Scottish actor Gordon 'Mr Hudson' Jackson. Now Gordon Jackson was also from Glasgow but he had a Scottish accent, so he'll do the producers will have thought. In their road to the 1966 final, where they were hammered 7-3 by a resurgent Arsenal, Jackson scored 9 of their 11 goals, Jim Fraser notching the other 2. This was by no means the end of the Quizball! road for The Pars, however. Not by a long chalk. The 1967 series saw them narrowly eliminated 2-1 in the first round by Fulham. This time their guest supporter was Aberdeen-born future New Faces judge and manager of the lovely Lena Martell, George Elrick. In the 1930s he was famous for his song, I Like Bananas Because They Have No Bones. But this wasn't enough for him to be selected for the final 1970 series and what a series that was for the boys from East End Park! With yet another new guest supporter in the shape of Clydebank's very own Jimmy Logan and a line up that included ex-West Ham centre half and Glasgow University graduate John Cushley, they trashed every fancy dan English team that got in their way. Big John scored 8 of their 10 goals which won them the trophy, defeating Lady Barnett-less Leicester City 3-1. But who's this sitting in the guest supporter's chair for the final? He doesn't look like Jimmy Logan. That's because it's Dr Who himself, Jon Pertwee! How queer. One can only assume Jimmy Logan got completely wrecked in the BBC bar before the show. A frantic producer was sent running around Broadcasting House to find some BBC personality who was available to sit in and, lo, he bumped into the UK's favourite Time Lord. That's my theory at least. But with Cushley in sparkling form Pertwee could have been on Gallifrey for all the help required of him and a Cushley hat-trick won the Quizball! trophy for The Pars. I wonder if they still have it in the East End trophy cabinet? It's also a very difficult and unlikely quiz question for Dunfermline fans: What have The Pars and Dr Who got in common?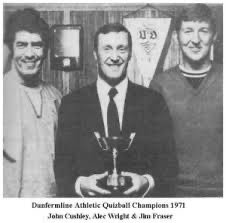 As a post-script to The Pars participation in this legendary programme, in the first 1966 series they defeated a Tottenham Hotspur team in the semi-finals which included Alan Mullery and Terry Venables 5-4 with a another hat-trick from the prolific Gordon Jackson and two from the underrated Jim Fraser. An unlikely fixture and result these days.
The idea that for Scottish teams all that was required was a guest supporter with a Scottish accent seemed to prevail as the series developed. Magnus Magnusson was wheeled out to represent Kilmarnock in series 2 despite being born in Reykjavik, Glaswegian Joe Brady, who played Jock Weir in Z Cars for 18 years, turned out for Dundee United and Arbroath legend Andy 'Donald Where's Yer Troosers' Stewart, of course, became a St Mirren fan for the day. Dad's Army legend and Dumfries-born John Laurie took his place in the Dundee team of 1967 but to no avail. They were all doomed, going out to Arsenal in the first round. To be fair, maybe some of those celebs really did support the teams they turned out for..but Jon Pertwee?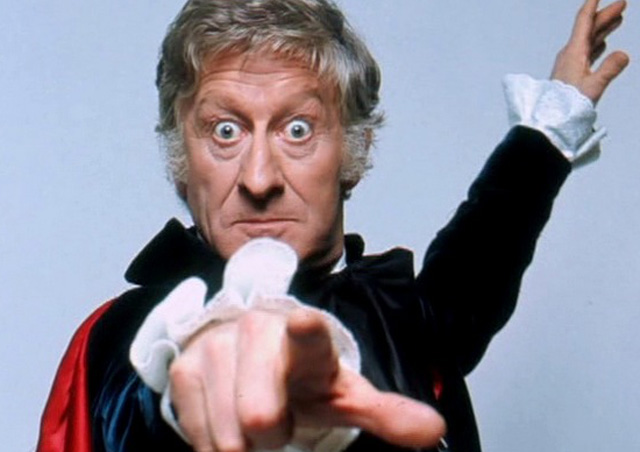 My own team, Hearts, were relatively successful in Quizball! reaching the second round in 1966 where they were defeated 5-3 by a five goal Ian Ure-inspired Arsenal and reached the final in 1969 where they were defeated 3-1 by Celtic whose star player was dentist and Glasgow University graduate full-back Jim Craig. Their useful guest supporter was actor John Cairney who was a genuine Celtic fan. He tells a story about his Quizball! participation in his autobiography where the team had engineered an answer for legendary centre-forward Willie Wallace who had said nothing throughout the previous rounds. They left the final question to him, that being 'What or who is a garryowen?' as a big racing man his answer was 'The racing tipster in the Daily Record?' It's undocumented whether he was awarded a goal for this as Garry Owen surely was, and still is I believe, the racing tipster in the Record.
Representing Hearts were a trio of Jam Tarts' legends, Donald Ford, Jim Cruickshank and Alan Anderson, all of whom chipped in with goals during the two competitions they appeared in. Their first guest supporter was the rather dull royal commentator Tom Fleming and it didn't get a lot better when golfer Eric Brown joined them in 1969, but both were Hearts fans at least. For 8 year old me it was just awe inspiring to see them on TV up-close in their civvies and showing just how brainy they were!
Other notable guest supporters included ITV football commentating legend Brian Moore, making a rare appearance on the BBC, representing Spurs. It became well-known in later years that Brian was actually a Gillingham fan, becoming a director during the 1980s. He was replaced by the great Peter Cook who really was a Spurs' fan in 1970.
Falkirk FC had won the Scottish second division title in 1970 and were invited on to the Quizball! Champions series. Their team was made up of not one, but two, future Scotland managers in the form of a certain Alex Ferguson, who scored both their goals before elimination to Everton in the semi-final, and Andy Roxburgh. Their guest supporter was also a person of significant note, the great Greenock-born comedian Chic Murray who would soon be playing Bill Shankly in a musical. Well, I suppose if Morton had been invited…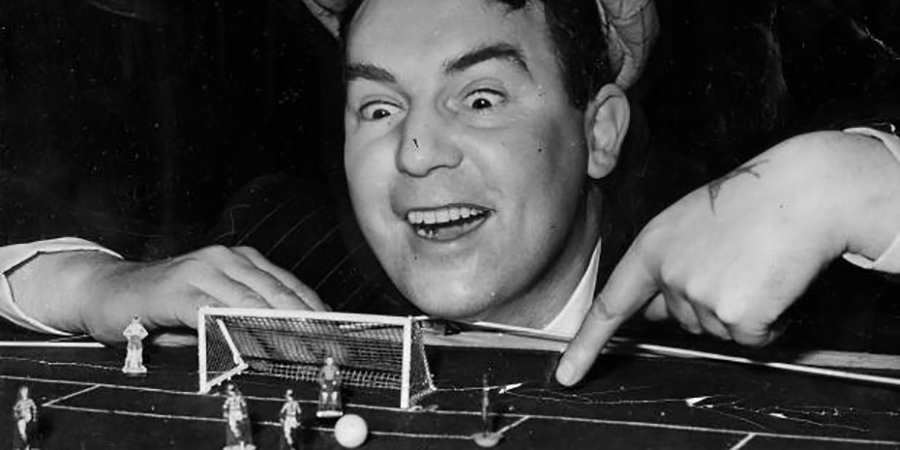 The Good Old Days (God, I hated being made to watch that awful programme every Friday night!) compere, the irrefutable, indubitable and indefatigable Leonard Sachs had the opportunity that no other guest supporter had of representing two different teams: Sheffield Wednesday in 1966 and Leeds United in 1970. But he was from the South African Transvaal so we'll let him off.
Fulham also had multiple guest supporters over the six years of the show, starting with Tommy Trinder who was also a director of the club, DJ Pete Murray, a well known Arsenal fan, and finally boxing commentator Harry Carpenter, who I'm not sure was a football fan at all..
And a final mention to Genxculture favourite, the inevitable Ed 'Stewpot' Stewart, a man who crops up regularly in the most unlikely of places throughout the 60s and 70s, who sat in for Everton in the 1970 series and despite scoring two goals in the final against a rampant Celtic, lost 7-5. Jim Craig starring for Celtic yet again with five goals. To be fair to Ed 'Stewpot', he genuinely was an Everton fan despite having no obvious links to Liverpool.
Interestingly, well I think it's interesting, during their many appearances on Quizball!, Celtic players gave the nickname to Jim Craig of 'Cairney'. As actor John Cairney was their guest supporter over three series, and he had starred in a Scottish TV series about a secondary school teacher called 'This Man Craig', Jim Craig became 'Cairney'. Geddit? Probably better than just calling him 'Craigy' which would be the usual footballing nomenclature.
Celtic were the only team to win Quizball! on more than one occasion, being triumphant in the '69 and '70 series. There was no stopping them in those days. Arsenal,('66), WBA ('67), Derby County ('70) and the mighty Pars('71) make up the Hall of Quizball! Fame.
Quizball! also allowed the most unlikely of teams to face each other over the state-of-art electronic VDU. For example (in the voice of the sadly departed James Alexander Gordon):
Tottenham Hotspur 4- Dunfermline Athletic 5 (1966)
Arsenal 5- Heart Of Midlothian 3 (1967)
Heart Of Midlothian 3- Arsenal 2 (1969)
Celtic 7- Everton 5 (1970)
Derby County 2- Cowdenbeath 1 (1970)
Blackpool 4- Partick Thistle 2 (1971)
Chelsea 3- Dunfermline Athletic 4 (1971)
One episode from each year of its broadcast apparently still exists in the BBC archives, which is surprising as most shows like this were routinely and scandalously wiped to save money. The very first episode is available on Youtube but it would be nice to see the rest (although the Stuart Hall episodes may continue to be proscribed).
Anyone watching this vintage episode would find it amateurish, lacking in excitement, even pedestrian, but there is so much to enjoy! This was a series that set the parameters of every sports-related quiz show in the future. Without Quizball! we would not have had A Question Of Sport, Sporting Triangles, They Think It's All Over or the pretty awful A League Of Their Own. Ok, many of those probably shouldn't have left the ideas stage but the fact is, they were all influenced by Quizball! and all have sports people participating in an informal and sometimes humorous way. And without Quizball! we would not have the common expression 'Route 1', which can be used in so many different contexts and is.
And as the crusty old dignitary who was wheeled in to present Arsenal with the first ever Quizball! trophy said, 'It's nice to know footballers have brains in their head and not just in their feet.'
We know this now and it was all thanks to Quizball!