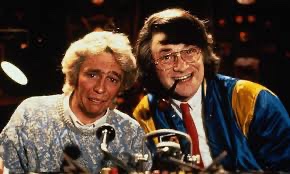 What was it with 70s radio DJs? The size of their egos (and bank balances) were in inverse proportion to their knowledge of music.
For a medium which is about playing popular music to the masses there can be no individuals less qualified to deliver this seemingly uncontroversial melodic diet to our pop kids than 70s DJs. Where did it all go wrong? Well, it went wrong from the day of Radio One's inception on September 30 1967 when a smooth-voiced male of indeterminate accent welcomed us to 'the wonderful sound of Radio One,' and proceeded to play Flowers in the Rain by The Move. It was all downhill from there.
To understand 70s DJs you have to separate them from the music they played because most had little interest and even less knowledge of music. They had no discernible accents, they talked incessantly without really saying anything, they rarely referred to the music other than to introduce it as 'the sensational sound of…….' They all had their own platforms but every one sounded the same. A few DJs had their own schtick, but generally the shows were all the same and the vocabulary used was the same but the voices just sounded slightly different.
Radio was just a useful peg to hang their cloak of moronic banter on and the records they played merely allowed them to take a breather, but they still managed to talk over the beginning and end of every record. A real pain when you were poised over the radio speaker with the microphone of a cassette recorder.
Over the years the cult (yes, I said 'cult') of the personality DJ just grew. The programmes were about them, people wanted to hear them, some deluded people even wanted to see them. Thousands turned up to see The Radio One Road Show during the summer months, although I would argue that if you were young and on holiday in Cleethorpes, Margate, Blackpool or Morecambe, then of course you'd go and watch it. What else was there to do?
To be fair there were a few DJs on Radio One in the 60s and 70s who actually did like music and were able to be knowledgeable about it and discuss it. John Peel, of course, fought a life-long rearguard battle to keep non-mainstream music alive on R1 but he was tucked away at the end of the day throughout the week. In the end he sort of joined them by presenting TOTP and various other R1 frivolities but he could never take that look of distaste off his face in any photograph or the heavy irony from his voice.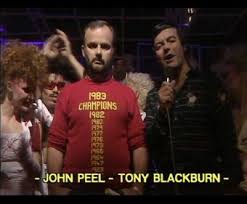 A mucker of JP's was former Radio Luxembourg DJ David 'Kid' Jensen who styled themselves 'The Rhythm Pals', almost to remove themselves from the morass of blandness elsewhere on R1. Although sounding like a slick Canadian presenter (which he was) Jensen also championed new music on his Saturday morning show and certainly was responsible for helping new acts be successful in the UK. He was the first to play regularly Sultans of Swing by Dire Straits in 1979 and achieving a high of No. 8 and the rest is pop history. He also was almost single-handedly responsible for the success of Althea and Donna's classic Uptown Top Ranking, transforming it from an obscure reggae song on a tiny label into a worldwide smash. Like Peel, Jensen's show was on a Saturday morning so as not to frighten the weekday audience who, they perceived, wanted a diet of bland, anodyne banter and unchallenging soft pop.
There were other 70s DJs who really did like music and were able to talk about it on-air. The excellent Stuart Henry, Johnnie Walker (who eventually left as he was completely pissed off with the gerontocratic culture), Alan 'Fluff' Freeman with his Saturday Rock Show and Paul 'The Great Gambo' Gambacini, for example. At the time, for young people just becoming interested in music like myself, Wonderful Radio One was the only music radio available during the day, the crackly sound of Radio Luxembourg was available at night given a decent tailwind, but it wasn't that much different. The DJs that were broadcasting from Luxembourg would, inevitably, be the DJs broadcasting on Wonderful Radio One eventually. So I became a Wonderful Radio One listener through necessity. It was the only place to hear current popular music and, to be fair, if you knew where to go, there was non-chart music to be found in various places around the station.
What has become clear to me about these disembodied radio voices is that, for most, that is all they are. My research has revealed there is precious little of any interest to say about many of these individuals, but I suppose that just goes with the territory. What was I expecting?
So, in no particular order…..
Peter Powell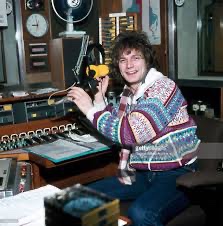 Peter James Barnard-Powell joined wonderful Radio One in 1977, like so many other DJs , after a stint on Radio Luxembourg. Over the next few years he glided smoothly through the various DJ slots upsetting no applecarts or stirring up any hornet's nests. However, his innate BBC conservatism occasionally manifested itself through the permasmile and verbal superlatives. One such incident was on his Sunday morning show where he played The Smiths' excellent new single, The Boy With The Thorn In His Side. The title of the album the track came from, The Queen Is Dead', was just too much for Pete's establishment background and he launched into a mini-diatribe about how tasteless and unnecessary this album title was. Well, he had his CBE to consider!
John Peel also talked about PP's bourgeoise attitude to anything new or different when he gave an interview to the Glasgow Herald in 2004.
Peter Powell was a dick, I'm afraid. It was Peter who came to me and told me that I shouldn't be playing hip-hop when I first started playing that because it was the music of black criminals.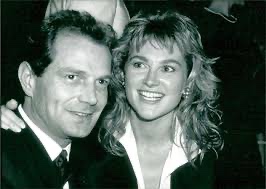 Unlike so many other wonderful Radio One DJs, he did have some semblance of a personal life. And what a cast-iron showbiz, Radio One personal life it was! In 1990 he married Blue Peter and Wish You Were Here's Anthea Turner in a mainstream media match from tabloid heaven. The more cynical might even have seen it as a C-list PR set-up. She had even been in a previous relationship with castle-dwelling Radio One elf Bruno Brookes, which, according to some outlets, was less than harmonious to say the least. Mind you, he had had a 'very public' relationship with Keith Chegwin's sister, Janice Long. Anyone might think this was a C-List PR set-up……..
Powell is now a very successful manager of bland, mainstream morning TV celebrities (are there any other type?) including Simon Cowell, Piers Morgan and Richard and Judy. He still continues to manage Anthea Turner and I hoping he's doing a better job of it than when they were married, though recently, you have to say, he's taken his eye off that particular ball.
Tony Blackburn
The first voice heard on Wonderful Radio One on September 30 1967 and still very much around the airwaves. Blackburn is probably the DJ most associated with Radio One during the 60s and 70s. Like so many of his Radio One colleagues, his middle-class BBC credentials were as solid as his indeterminate middle-England accent. He set the tone for Wonderful Radio One, describing every record as 'a smash', 'sensational' or 'poptastic,' which, incidentally was the title of his gossamer-thin 2007 autobiography. Backed by his faithful but irritating hound Arnold, Tony Blackburn has filled pretty much every presenting slot and is still broadcasting with the BBC, although slightly less effusively.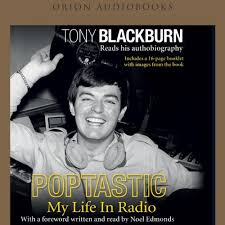 Tony conducted much of his private life over the airwaves during his mid-seventies marriage to lovely actress Tessa Wyatt. I have a vivid memory of Tone using his radio platform to lambast some tabloid journalist who dared to question Tessa Wyatt's acting credentials, motivating him to take a few minutes breather from playing records to read out her CV, just to hammer his point home. But Radio One DJs could do that in those days, they were so powerful within the corporation (more examples of DJs abusing the airwaves coming up).
Tony was well-known enough to secure parts in pantos each Christmas and it was during the power cuts of 1973, when a power cut happened during his panto performance, that he took to the airwaves to say that the miners should go back to work as it was ruining people's enjoyment of his art. In later years he admitted that a broadcaster should keep their political allegiances to themselves, while at the same time admitting he had no great love of unions or the TUC.
Sadly, his marriage foundered when the lovely Tessa got a part in Alan Partridge's favourite TV sitcom Robin's Nest ('Needless to say, plates got broken and Robin got annoyed!'). The chemistry between 60s and 70s TV stalwart Richard O'Sullivan and Tessa was not just confined to the restaurant kitchen and poor old Tony almost had a breakdown on air as a result.
To be fair to Tone he has championed soul music for many years on the radio although it's more The Stylistics and Diana Ross than The Temptations or Isaac Hayes. But credit where it's due. Few people in the media in those days were playing black music regularly.
Much to his annoyance, he was lampooned savagely in 1978 by Binky Baker and The Pit Orchestra whose single Toe-Knee Black-Burn was played widely. To add insult to injury said Binky Baker just happened to be Annie Nightingale's husband. Bet Radio One Christmas Parties were swinging after that.
Ed 'Stewpot' Stewart
Edward Stewart Mainwaring or should I say Ed 'Stewpot' Stewart has the bizarre ability to pop up in the most unexpected of places in this little blog space. Mainly because he turned up in the most unexpected of places within the 60s and 70s media, never quite reaching the pinnacle of the profession.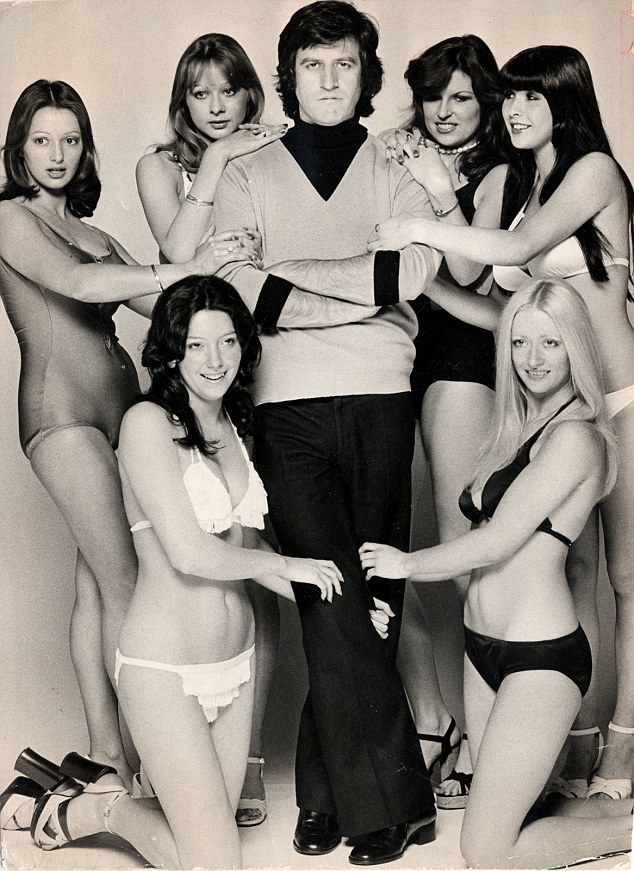 Although, in my humble opinion, he was a rather dull man, this didn't stop him become something of a Radio One legend, but it, of course, went with the territory. Despite this, his career was certainly more interesting than many of the other Radio One bozos.
Like most of his Radio One colleagues his middle-class credentials were solid, private school obviously, his dad a Treasury solicitor. He came to Radio One via a Hong Kong radio station and pirate radio. There is no evidence that he was particularly interested in or knew anything about music before he became presenter of Junior Choice on Saturday mornings. Silly jingles ('ello darlin'), Terry Scott with My Bruvver, Clive Dunn's Grandad, Sparky's Magic Piano (radical), The Laughing Policeman and loads of birthday requests set the tone for this unchallenging BBC offering which he presented for 12 years.
But Ed 'Stewpot' was never satisfied. A 6 year stint on Crackerjack between 1973-79, where he looked perennially uncomfortable, the Holiday programme with his lovely young (very young) wife Chiara, figurehead of kids' version of TV Times, Look-In (la-la-la-la-la Look-In!) with 'Stewpot's Newsdesk'. A failed attempt to become a BBC football commentator through entering a competition where he was up against Ian St. John amongst others in 1970, and various other hosting roles including the intriguing Exit! It's The Way Out Show with a pre-Blue Peter Leslie Judd as hostess in 1966 and as a panellist on ITV talent show New Faces all helped pad out Ed 'Stewpot's' CV.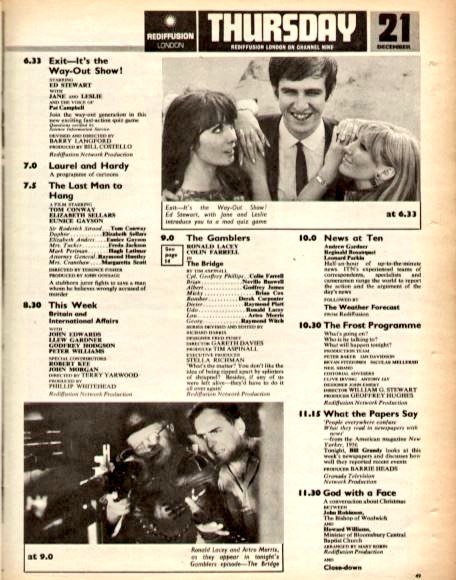 He even provided the posh male voice ('May I have the pleasure of this dawnce…?') on Lynsey De Paul's 1973 number 14 smash, Won't Somebody Dance With Me. According to LDP she was hit by a bus as a child (what's funny about that?) and spent three months in bed and grew so fat no one would dance with her at junior functions. Ed 'Stewpot' seemed to fit the bill though. Why? Well, read on…..
In 1971 Ed 'Stewpot' was invited to a friend's house, Jimmy Henney, fellow New Faces judge and manager of the great Glen Campbell, and the door was opened by his 13 year old daughter, Chiara. Thirty year- old children's radio show presenter Ed 'Stewpot' later wrote in his autobiography:
I arrived at 7pm and was greeted at the door by what I can only describe as a 13 year-old apparition. She was simply stunning!
Even more stunning was the fact they were married four years later and Chiara was given the day off school to attend the ceremony. But it was 1974, it was ok! The marriage eventually ended some years later when she went off with a golf pro.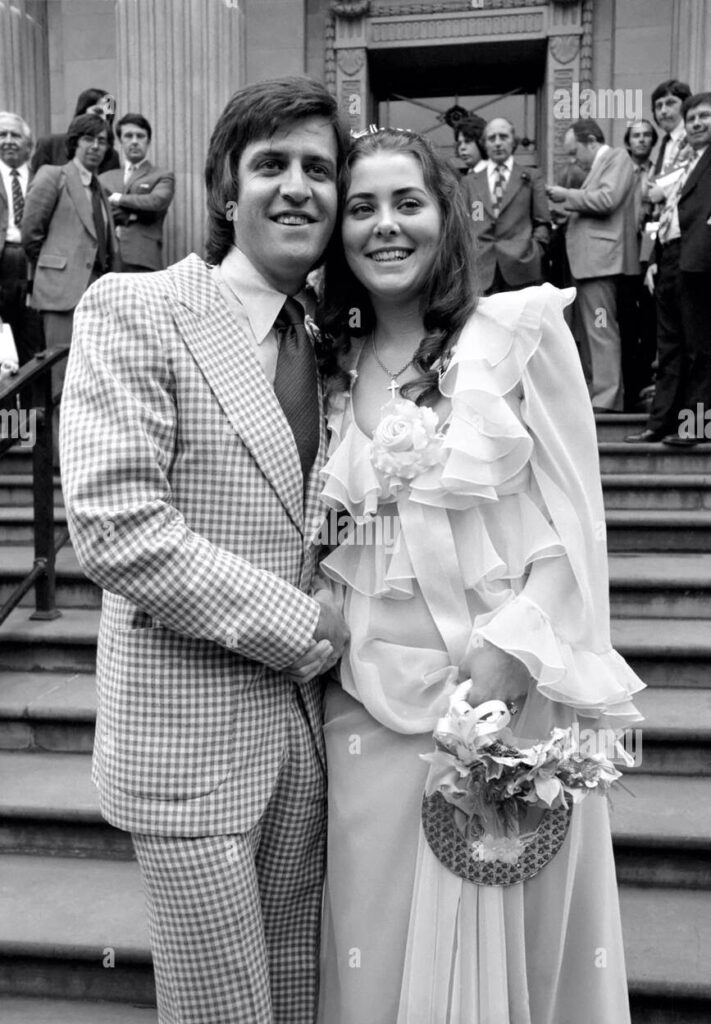 Ed 'Stewpot' was an Everton fan as he constantly reminded listeners on Junior Choice. What's more interesting though, he was Everton F.C.'s guest supporter on BBC's Quizball ( See It's Route One, It's Quizball! ) in 1966. I'm not sure how good he would have been at quizzing but I think he was probably a 'Route 2' man, as he was for most of his career.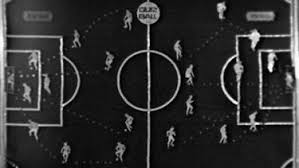 Ed 'Stewpot' Stewart continued to broadcast at the BBC as well as many of the radio stations that ended with the word 'Gold.' He'll be remembered as a DJ who didn't seem to want to be a DJ and a nearly man who didn't quite reach the heights he wanted to, a children's radio and TV presenter who seemed rather awkward in the presence of children (or at least most children), a sports fan who was never really given the opportunity to be one on air and a radio and TV 'personality' who didn't really have that much of a personality. But he had a pretty decent career so he shouldn't really grumble.
Diddy David Hamilton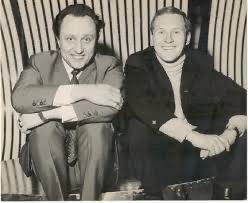 How tickled I am…..
Diddy David Hamilton's career changed almost as often as his hairline. Sidekick to Ken Dodd (hence the 'diddy), Tommy Cooper and Benny Hill, on-screen announcer on Thames TV, as well as the official announcer at Fulham FC's Craven Cottage football ground, for which Mohammed El Fayed paid him a whopping £1000 a match! Like Ed 'Stewpot' Stewart, Diddy David Hamilton was a voice which suited Wonderful Radio One. At the age of 35 he got his own afternoon show in 1973 and stayed there until 1986, when, at the age of 48 he left acrimoniously, lambasting the BBC due to their 'geriatric' music policy. Was he championing punk or did he feel German abstract electronica was being ignored or maybe he felt too few rock-a-boogie beat groups were being sidelined by the DLT Radio One pop panel. We will never know, unless, of course you read his autobiography, The Music Game, which might be a bridge too far. How bizarre, though.
Diddy David has appeared on pretty much every British TV quiz show (Blankety Blank, Celebrity Squares, The Weakest Link), variety shows (Ken Dodd, Benny Hill, Dickie Henderson, Cilla Black, Morecambe and Wise), comedy concept shows ( The Golden Shot (See Like A Bolt From The Blue..The Golden Shot below), Quick On The Draw, Give Us A Clue, The Generation Game) and even news shows ( Nationwide, Northern Life, Today) and he walked the gamut of worthy, high quality TV (Clive James On Television) as well as the nadir of TV 'entertainment' (An Audience with Jim Davidson). He is even one of a small select band of celebrities who have appeared on Monty Python's Flying Circus (the others being Lulu, Ringo Starr and BBC newsreader Richard Baker).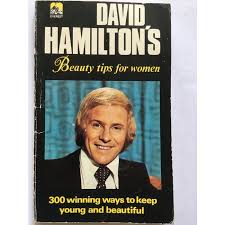 He also hosted, up and down the country, many of that most 70s of TV spectacles, the beauty contest. Miss Westward, Miss TV Times and Miss Thames TV, amongst others, all benefitted from the Diddy David Hamilton smooth treatment. He was the host in velvet jacket, frilly shirt and huge dicky-bow who gigglingly asked the searching questions as the contestants, in their swimsuits, shivered in an icy seaside wind. 'And what will you do with the £500 if you win this contest?' leered Diddy David. 'I'd like to travel the world, David, and put my mother through parachute school.' 'And thank you Yvonne from Basingstoke. Big round of applause!'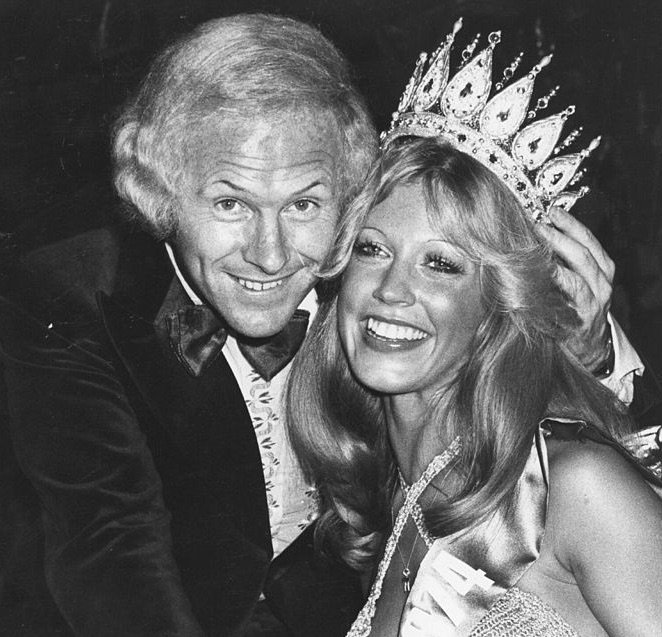 In short, Diddy David has been around a bit and maybe that autobiography might not be the stretch it initially seemed.
It's hard to believe, I know, but Radio One DJs were seen during the 70s as glamorous, 'happening' people and having their finger on the pulse of the nation. Unfortunately, the pulse they had their finger on was one of a very old, very conservative, very easily pleased old man.
Those wonderful people at Talking Pictures TV (http://www.talkingpictures.co.uk) showed an obscure British film some months back from 1979 called Home Before Midnight. The story of a 30-something pop music composer who met a girl at a club, fell into a wild passionate affair with her, only to find out she was 15. Oops. Although the film had some interesting points to make, the representation of women was pure 70s. In an early scene the main character is entering a very fashionable, up-market London nightclub when who does he meet coming out? Why it's man-about-town, sexy and charismatic record spinner, Diddy David Hamilton, with a tall, scantily- clad young-ish girl in tow. A conversation ensues between Diddy David and the main character along the lines of 'What you doing with this one then, you old charmer?' etc. During the exchange the young girl says nothing, just stands there, pouting and she is only referred to in the third person. This was clearly the director's idea of depicting the glitterati of late swinging London, and a short, balding 41 year old radio DJ was supposed to epitomise this vibe. Clearly, Jonathan King wasn't available.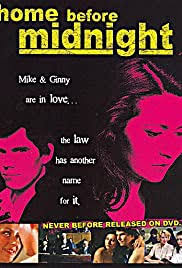 To be fair to Diddy David Hamilton, his CV is pretty impressive and he's worked with many of the Greats, albeit in a superficial way most of the time.
Just don't try to make out he was ever glamorous or a babe magnet…..
Dave Lee Travis
Where to start?
Well this arbiter of the young record-buying public's music taste was Pipe Smoker of the Year 1985. And that's about as interesting as it got with DLT.
In an interview with Q Magazine not long after he ignominiously resigned 'on air' for maximum dramatic effect but with sadly few people really noticing or bothering, Dave Lee Travis insisted that he be known as a 'broadcaster.' This was his way of trying make out that what he did (i.e. talk reactionary inconsequential crap for 3 hours till he was relieved by some other moron), had so much more gravitas than most gave him credit for. In fact, he was really a DJ, a disc jockey, someone who plays music for the enjoyment of listeners. Unfortunately DLT and many of his colleagues had, over the years, changed their job descriptions into cults of personality. The shows were not about the music but about them. Their jingles, their wacky comedy items, their zany quizzes, their name-dropping, their references to tabloid news stories and their private life revelations. Oh, and some pop records.
Out of all the many purveyors of daily drivel at Radio One, DLT, The Hairy Monster, was probably the most loathsome and summed up the utter puffed up, self-aggrandising nature of those gargantuan egos. The blind rage he felt when the purge came, courtesy of Matthew Bannister in 1993, resulted from, what he believed, was his untouchable status due to 26 years believing he was bigger than the station. Not only had he occupied pretty much every prestigious presenting spot but he also sat on the Radio One playlist panel which decided what the listening public should be allowed to hear. This is the same man, as John Peel observed at a party DL:T was throwing, who possessed no records in his vast Buckinghamshire mansion and was now arbitrating on which artists should be allowed to be heard over the airwaves.
Dave was never slow to let the listening public know his views on many issues of the time. During a newspaper strike in the 80s, for example, a newsagent rang in to compete in a quiz DLT ran on his show, the silly 'snooker on the radio' he thought was so hilarious. 'Is there anything you'd like to say to the strikers who are affecting your livelihood?' enquired The Hairy Monster. 'No, not really,' replied the newsagent. 'I quite agree with their grievance.' Nice try Dave.
He even had a hit record in 1976 with the 'comedy' parody of C.W. McCall's hit of the same year Convoy. Along with fellow forgotten Radio One DJ Paul Burnett, whose schtick was comedy voices, under the name Laurie Lingo and the Dipsticks they got to a nose-bleed inducing No. 4 in the charts with Convoy GB. The song was as funny as the group's name. DLT looked menacing in his mask, the sort of guy you wouldn't want to meet up an alley on a dark night. But that's another story.
Shortly after he left Radio One (just before he was pushed) he scouted around the media looking for anyone who might listen to him. It seemed that now that he had left the station, few people were really that interested. It turned out that listeners are only interested in who happens to be on the radio at the time. There didn't appear to be dedicated DLT fans, which must have come as a shock to the Hairy Monster. Eventually Q Magazine gave him an outlet to vent his spleen and in a bizarre, often hysterical, ego- driven interview he let fly.
Top of the Pops is full of shite. There's no guiding light anywhere. There's nobody like me to say 'Hang on. You're doing this all wrong.'
And, of course, DLT always had his finger on the nub of youth so he must know what he's talking about.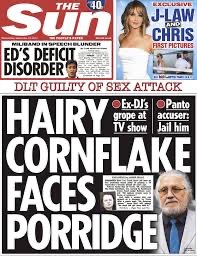 Noel Edmonds
John Peel observed accurately in the 70s that Noel Edmonds was never bothered about being a DJ as he, like so many of his colleagues, had no particular interest in music. It was really just a stepping stone towards what he really wanted to be: a TV presenter. Peel was usually pretty spot on about these things and I could leave things just there as every knows about Deal Or No Deal, The Late, Late Breakfast Show, Crinkly Bottom, Gotchas, Telly Addicts and god knows how many other awful Edmonds' vehicles have sullied our TV screens. But Edmonds was responsible for an aspect of Wonderful Radio One that's almost forgotten and it was something that really spelled the beginning of the end for Radio One as we knew it.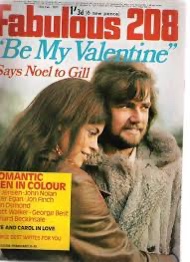 Edmonds burst on to the Radio One big league when he replaced Blackburn on The Breakfast Show in July 1973. Like so many other DJs he'd graduated from Radio Luxembourg and had been noticed presenting various weekend shows and filling in for the likes of Kenny Everett. I can remember being quite sad when Blackburn had left The Breakfast Show as I had always listened to him as I was getting ready to go to school. I'd been given my first radio as a birthday present in November 1971 (Coz I Luv U by Slade was at number 1) and I had become a Radio One addict, well, in my defence, there was nothing else to listen to. Quickly, I realised there was more to this Edmonds than I had, at first, thought. He had some 'zany' characters such as Flinn The Milkman and Desmond Duck. He was really quite anarchic, or so I thought at the age of 13. He was a resounding success and Blackburn must have been raging as he just had his faithful hound Arnold who could only woof, woof for company. It was probably the first radio show, in this country at least, in which the comedy took centre stage. And to be fair, it was pretty good although now I think 'What about the music?' which had taken a back seat. With every other DJ it was their mindless banter, with Edmonds he was curating a show and he had seen the way radio was heading, sadly. With all the items on his show he must have been working flat out, or had a team of people working flat out to prepare it all.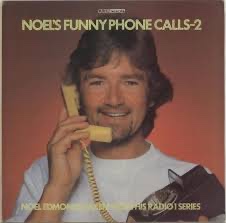 My favourite Edmonds' item was The Golden Guillotine. I can't really remember why it was called that other than at the end of the routine you'd hear the guillotine blade fall and a head bump on the ground. In fact, it was just an elaborate pun on a record he was about to play. He'd tell a story and the punchline would be the title of the song or the artist performing it. The only punchline I remember was about a burglar trying to break into a house and attempting to dislodge the glass in the window so he could gain entry. 'And finally he….freed a pane.' Cue Band of Gold by Freda Paine. Well, it amused me at the time.
He even did a public information film for The Blood Transfusion Service in he mid-70s.
Punter: How are you feeling Noel?
Edmonds (in the process of giving Radio One blood): Fine. Quite, quite fine.
But with success comes hubris and before long Edmonds was racing cars, living on a huge estate and commuting in a helicopter. He would regularly be photographed in a one-piece monogrammed flying suit, helmet and goggles against the backdrop of a glistening chopper. 'My busy lifestyle demands this mode of transport,' he'd tell us. This included ferrying performers to Wembley for Live Aid in 1985 for some reason. Despite DLT dabbling in stock car racing, Edmonds took radio celebrity to a whole new plutocratic level. In fact, Noel Edmonds is the person DLT wishes he had been.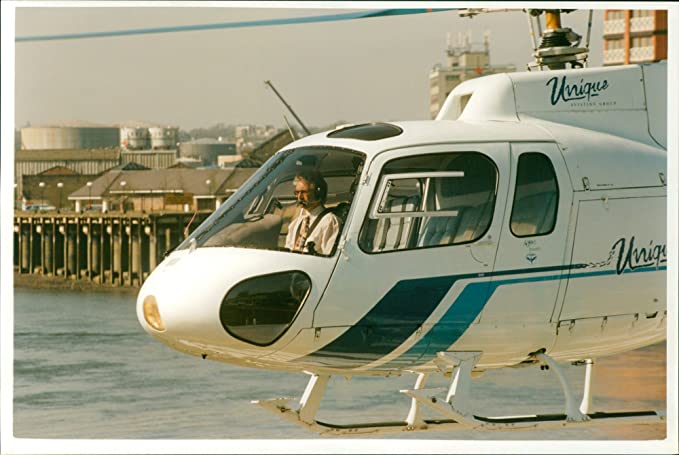 To be fair, Edmond's stratospheric rise only began properly after he left Wonderful Radio One. But it was here he really showed some talent although, like the rest, music only got in the way. And to be fair once more, Edmonds was very, very good at what he did as a presenter on TV. Shame about the awful shows he fronted, which were, of course, hugely popular.
When he left Wonderful Radio One in 1983 it was never going to be the same again. It wasn't enough for DJs just to turn up every day, spin records and talk shit, although this did continue, obviously. But DJs had got too big for their boots, too rich for their own good, too secure in their tenures, too outspoken in their views, too obvious in their lavish lifestyles. Waiting in the wings was a certain Mr Matthew Bannister who was about to throw a molotov cocktail into the sherry party that had been Radio One.
Steve Wright
Although Steve Wright, strictly speaking, is an 80s DJ, I felt it worth mentioning him as he is the ultimate example of a DJ weaned on the moronic diet of Radio One in the 70s. In a Comic Strip story from the 80s two DJs are having a conversation, one with dyed blonde hair and clearly middle-class and the other played by Nigel Planer who is a little more rough and ready. 'I'm currently working around Esher,' says the posh jock 'and I've met Steve Wright.' 'You've met Steve Wright!!!' says Planer incredulously looking off into the middle distance. 'Dear god……dear god….'
If ever anyone mastered the black art of talking without saying anything it was Steve Wright. I'm convinced if you ever had a private conversation with Steve Wright he would talk in the same inconsequential manner as he does on radio. In other words, there are no hidden depths to him. What you hear on the radio is the way he is.
The radio love-child of Tony Blackburn, Peter Powell and Kenny Everett, if that were possible, as two-dimensional characters go, some of the ventriloquists' dummies featured in The Lost World Of TV Ventriloquism were more human. A man so superficial he is almost translucent. Although, ironically, there is much more to Steve Wright today than when he arrived at Wonderful Radio One in 1978. Sadly for him, this is only corporeal.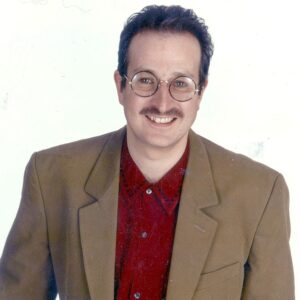 Steve Wright has been the great plagiarist. Nothing Steve Wright has ever done on the airwaves has been original, despite his claims. He is still known to travel to the US today to purloin things he hears US DJs doing on their shows and then maintains they are his ideas. That said, these 'ideas' are hardly pulling back the boundaries of radio.
Arriving at Wonderful Radio One in 1978 he supposedly introduced the 'Zoo' format which really just means he had a couple of bozos doing the show with him. This was something he brought back from the US where it had been happening for years. He was described as being 'anarchic,' 'zany' and 'irreverent' but, in fact, he was, and is still, deeply conservative and is the natural progression from Blackburn, DLT and Peter Powell in terms of blandness. His 'madcap' characters such as Mr Angry, Damian the Radio One Social Worker and The Old Lady certainly padded out his programme and, no doubt, some people found them funny but he was really just copying Kenny Everett who'd been doing this years before and much more cleverly.
In 1994 Wright won Radio Personality of the Year as voted by Sun, Daily Mirror and Record Mirror readers. Not a great return for so many years of broadcasting despite him constantly reading out letters he receives which invariably end 'Love the show, Steve.' To describe Steve Wright having a 'personality' is certainly stretching the point and it is no surprise that very little is known about Wright's private life. He makes out it's because he prefers to be secretive about it but I suspect it's because there really is nothing else to know.
He's the robotic Radio One DJ taken to its inevitable conclusion in some weird Science Fiction story by Philip K. Dick. He is really only a voice but has become a totem for a type of DJ who dominated the airwaves during the 70s and are now remembered, at least a few of them, for reasons unrelated to music but entirely related to their gargantuan and unhinged personalities.
How Steve Wright survived the Bannister cull in the 90s is anybody's guess, although he did disappear from Radio 1 for a while before returning to Radio 2. Maybe he blended into the studio background and no one noticed he was there but given his years of activity, one can't but wonder if there really is so little to the Wright backstory as there appears to be. In a tabloid article I read some years ago Steve Wright was described as a 'pop expert'. Never has a title been so abused given his show revolves around that malevolently trivial pentagram of Radio One, the tabloids, The One Show, Twitter and celebrity magazines such as Hello and OK.
To try to conclude this article on a positive note, Steve Wright is the end of an era of banality, blandness and boring conformity. Few young people will listen to Wright and think, 'That's what I want to be,' but inevitably something just as horrendous will replace it. And in Radio One's case during the 90s it was the appalling Chris Evans, arguably a more unhinged ego than the individuals discussed above. So much for progress but that's life, I suppose. Crucially we have Radio 6 Music now, the station Radio One should have been all those years ago. And we have properly brilliant presenters like Stuart Maconie, Mark Radcliffe, Annie Mac, Trevor Nelson, Steve Lamacq, Lauren Laverne and Shaun Keaveney and others who not only can discuss music knowledgeably but also -and how radical is this- like it!
Now just don't get me started on local radio DJs…….