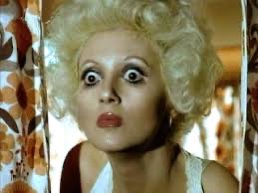 Rarely seen on TV now, everyone knew and loved Adrienne Posta in the 60s and 70s
As I've mentioned a number of times in this little blog space, Budgie starring Adam Faith, now being reshown on the wonderful Talking Pictures TV, was one of the pioneering TV series of the 70s and featured a who's who of top-class actors of the time, as well as a few who were certainly on their way up. One face who definitely belonged in the former camp was that of Adrienne Posta. Virtually forgotten now by anyone under 50, she was known to everyone in the 70s, maybe not by name but invariably her face was hugely familiar, and anyone from that era spotting her in re-runs from that decade would recognise her immediately. Although not quite a sex symbol, she was the sort of girl most teenage and slightly older boys would love to have gone out with or even just spent some time with. In short, she was lovely, unthreatening in a good way and seemed like great fun. She was also a terrific and very versatile actress.
Her CV includes many of the great films and TV series of the 60s and 70s and she worked with most of the giants of the industry and it's a CV that cries out for a bit of Genxculture analysis. Still very much with us and mostly doing lucrative voice work as well as teaching at the Italia Conti Academy of Theatre Arts, ladies and gentlemen, please be upstanding for the legendary Ms Adrienne Posta!
Adrienne Poster, as she was at the time of her birth in Hampstead, London in 1949, was a child star and after appearing in a range of stage productions made her big screen debut at the age of 7 in No Time For Tears in 1957, a children's hospital drama vehicle for showbiz royalty Anna Neagle, which also featured that other omnipresent child star, Richard O'Sullivan.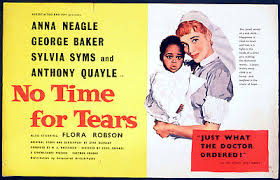 As well as appearing in loads of TV series and films she also launched a recording career releasing a string of singles with titles like Shang A Doo Lang and the, nowadays, rather dubious 'Only Fifteen' (tell that to Charlie Endell) but with no chart success. It did get the child star AP onto such hip music productions as the uniquely 60s titled Gadzooks! It's All Happening! and a spot on Juke Box Jury three times. She signed for Decca Records, also the home of The Stones, and it was at a party given for her by Stones' manager Andrew Loog Oldham to celebrate one of her record releases that Mick Jagger and Marianne Faithfull were supposed to have met (according to MAF's autobiography, at least). Already her 60s credentials are developing nicely. AP's relationship with music did not end here, however. In 1971 (a landmark year for her) she sang backing vocals on that quirkiest of singles Johnny Reggae by The Piglets (well, it was a Jonathon King production), although there is some dispute about which singer's vocals are the most distinct. It certainly sounds like AP to me…
In 1974 she married lead singer of The Marbles and later Rainbow, Graham Bonnet. His career was certainly colourful. After joining the Michael Schenker Group in 1983, he lasted only one gig as he drunkenly exposed himself to the crowd at Sheffield City Polytechnic and was promptly sacked. There was a time when a heavy rock band would have approved of that sort of behaviour. Mind you, how dare he besmirch the sainted Adrienne Posta's reputation. Beast! And talking about beasts, Posta and Bonnet reportedly owned the Dulux dog which appeared in so many paint ads at the time. Fancy that! But the marriage was sadly short lived.
Adrienne Posta was one of a breed of character actor from that period who always added a touch of class to even the most mundane of productions. I would have no hesitation in ranking her alongside greats such as Beryl Reid, Dora Bryan, Thora Hird and regular collaborator Maureen Lipman and, in the male acting camp, John Le Mesurier, Raymond Huntly, Arthur Lowe and Stanley Holloway. All actors who, although rarely stars, gave a film or TV programme a professionalism and gravitas which certain productions sometimes didn't deserve. Without a doubt Adrienne Posta ranked alongside those legends of the industry.
And it's this acting career that raised her to legendary status and rather than just list what she appeared in, we're going to pick out some of the milestones and a few of the just purely interesting stages in her blockbusting 60s and 70s journey. This is not an exhaustive list but more a compilation of, what I think, are the significant works she should be remembered for.
Films
1. To Sir With Love (1967)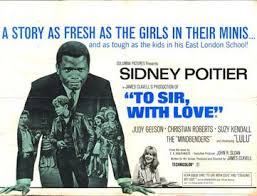 Playing alongside Hollywood legend Sidney Poitier must have been a pretty exciting experience for the 18 year old Adrienne. It was here she also struck up a long standing friendship with a similarly young Lulu. So much so that AP appeared as a regular guest in 1973's Saturday night star vehicle, It's Lulu. The film also featured a few up and coming and established British actors including Suzy Kendall (who would team up with AP again a year later), Judy Geeson, Geoffrey 'Catweazle' Bayldon and the brilliant Patricia Routledge. Music was provided, along with Lulu, by The Mindbenders.
Although groundbreaking in its representation of race for the time, the film dodges the big questions and Monthly Film Bulletin described its 'sententious' script, a little harshly, as '.. having been written by an overzealous Sunday school teacher after a particularly exhilarating boycott of South African oranges.'
The film is also notable, not only for Lulu's theme song, a number one hit in the US, but also for the fact Sidney Poitier accepted a $30,000 fee but also 10% of the film's gross takings. Which turned out to be over $42,000,000 in the US alone. Nice few weeks work for Sidney, but what's more to the point here, Adrienne Posta had well and truly arrived!
2. Up The Junction (1968)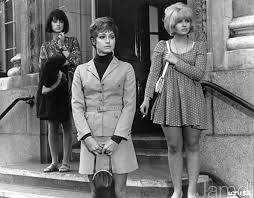 Originally shown on TV as a one-off play in 1965 and directed by a young Ken Loach, the 1968 film version was more controversial. Despite the film's main, rather patronising, premise telling the story of Polly (Suzy Kendall), a rich socialite who wanted wanted to live with 'common people,' it was actually, against the odds, an impressive depiction of working class life in South London. Featuring a host of 60s and 70s British acting talent, the cast included Dennis Waterman, Maureen Lipman, Susan George, Michael 'Arthur' Robbins, the ubiquitous Liz Fraser and an uncredited Mike Reid, as well as AP. The great Hylda 'Ooh, she knows y'know' Baker also plays against type as a backstreet abortionist AP's character Rube goes to see after becoming pregnant, in a shocking and prescient scene for the times.
The New York Times review highlighted 'strong support' from Adrienne Posta and Maureen Lipman. These two stalwarts of the screen would meet up again on TV quite soon.
3. Here We Go Round The Mulberry Bush (1968)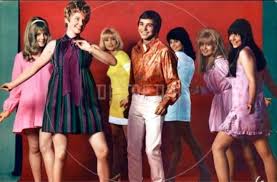 The mid to late sixties was awash with 'sex comedies.' Most of which were neither comedic nor sexy, but Here We Go Round The Mulberry Bush is worth noting, not so much for its ostensible raunchiness, it was rated as an 'X' after all, but for its swinging sixties vibe. Described in one advertising slogan as 'The most 'with it' young cast in the most 'with it' picture of the year.' Well, it was half right and it certainly was, and still is, a wonderfully psychedelic 'with it' experience.
Starring a young Barry Evans (more on him later, I think), whose film and TV career nosedived after this psychedelic offering with Doctor in the House, the very dodgy Mind Your Language, the execrable Adventures of a Taxi Driver and a few other unmemorable skin flicks. It told the story of a young lad in Stevenage, yes Stevenage, who was desperate to lose his virginity. So far, so very formulaic but, to be fair, there was a little more to the film. Believe it or not, it was supposed to compete in the 1968 Cannes Film Festival and was even tipped for success. Sadly for the film, that year's festival was cancelled due to the student riots in Paris in 1968 which almost brought down the French government.
Films like this one were churned out during this newly permissive period in the US, such as What's New Pussycat, The Graduate, Candy (written by Terry Southern, see The Magic Christian below), and in the UK Dick Lester's The Knack..and How To Get It, Alfie and the alliterative ..em..Nine Ages of Nakedness. My researches uncovered another similarly generic title, Take Your Clothes Off, Doll, which, strangely hasn't seen the light of day on any of the film channels as far as I'm aware. Unless, of course, you know differently….
The cast really was 'with it' and included Judy Geeson (whose naked scene ended up on the censor's cutting room floor), Crossroads and Nescafe's Diane Keen, booming- voiced Christopher Timothy as an unlikely 'wide boy' and sadly recently departed Nicky Henson.
HWGRTMB is a pretty decent 'romp', as these type of lightweight sex comedies are often described. Written by the estimable Hunter Davies, the film features many notable actresses who Evan's character lusts after including AP who is excellent as runny-nosed Linda.
Like so many of the young adult orientated films of the time, it features a fashionable pop music soundtrack from The Spencer Davies Group and Traffic who sang the theme tune. Which all adds up to a satisfying 60s experience, not least for the participation of the wonderful AP. It's fair to say, by this time her 60s credentials couldn't have been more impressive.
4. Percy (1971)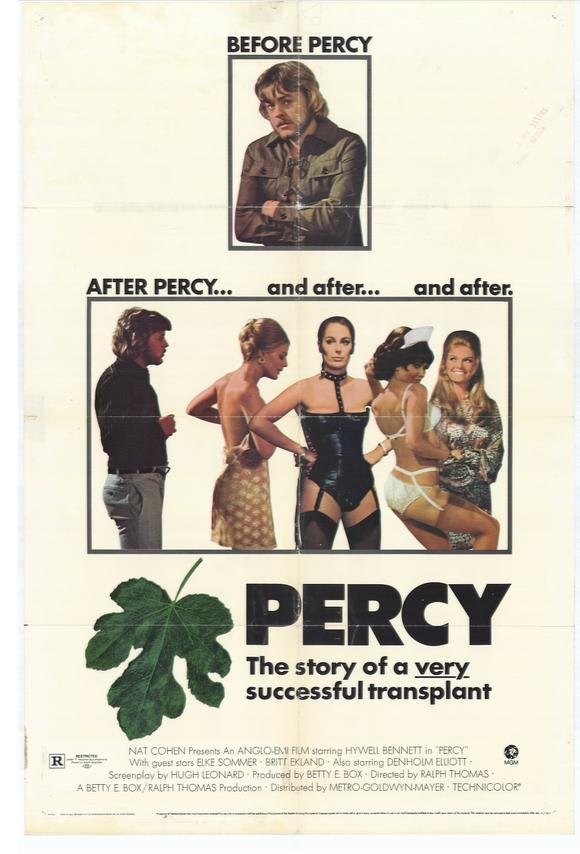 Films like this one, good and bad, just rolled off the conveyor belt in the late 60s and early 70s. Not surprisingly, they look dated now but writers and directors were just beginning to realise the moral straitjacket of the 50s was being loosened, when in previous years a medieval minor unelected Royal servant, the Lord Chamberlain, decided what the British public was allowed to see and what was strictly off limits in theatres and cinemas. Percy starred Hywell Bennett as a man who received the world's first penis transplant, hence 'Percy'. Geddit? His quest to find out more about the dead man he inherited his new member from involved a plethora of lovely ladies (obviously) including the lovely AP.
This time the obligatory pop soundtrack was provided by the wonderful Kinks and the cast was the usual group of superb character actors which included Denholm Elliott (again), the brilliant Sheila Steafel, Britt Ekland, Julia Foster, Janet Key, 'TV tough guy' Callan's (and now Emmerdale's) Patrick Mower as well as the ever reliable AP. As usual she was at the cutting edge (maybe not the best metaphor for this particular film) of British cinema.
5. Up Pompeii (1971)
I don't care what anyone says. I loved Up Pompeii written by that genius of innuendo, Talbot Rothwell. The theme tune, sung by Frankie Howerd himself, included the line Up Pompeii, Up Pompeii, Naughty, Naught-ay. Rhyming couplets don't come much better than that. The lovely Adrienne played 'Scrubba.' Enough said.
…….It's fair to say that AP's film career fizzled out rather after this particular outing although she did appear in a few down-market 'sex romps' such as Adventures of a a Taxi Driver (again with Barry Evans on a similar downward cinematic trajectory), Adventures of a Private Eye and Percy's Progress, a disappointing follow-up to Percy. But it was TV that really brought AP to a grateful public and her great TV years were really just beginning in 1971. She appeared in many of the memorable series from the 70s including Minder, The Gentle Touch, Boon, Dixon of Dock Green and, as detailed at length below, the brilliant Budgie ( See Budgie: A Monumental 70s Series below) with Adam Faith. Coming up are just a few of the particularly significant series AP appeared in during the 60s and 70s.
TV
1. Alexander The Greatest ('71-'72)
One of the first TV sitcoms to feature a Jewish family, Alexander The Greatest is a rarely remembered show which was about the eponymous 16 year old know-all Alexander (Gary Warren) who wanted to break free of his middle class London life and launch himself on the world. And, of course, the hilarious consequences which ensued. I don't remember an awful lot about this series other than it starred AP, it had a great theme tune, written by that stalwart of bouncy 70s pop Barry Blue (really name Barry Green) and seemed to include Alexander's lavish fantasies which were similar to those of Billy Liar. AP was the irritating older sister and the cast also included the great Sydney Tafler, stalwart of, seemingly, hundreds of British films as Alexander's dad.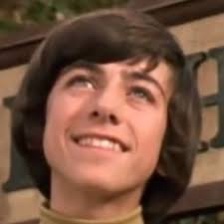 Gary Warren was another familiar face in British cinema and TV of the 70s including The Railway Children, Catweazle and the much-missed and virtually forgotten Mickey Dunne (another series suffering from cultural vandalism as no episodes survive). Like AP some years later, he dropped off the radar after appearing as a guard in Escape From Alcatraz in 1979.
2. Don't Ask Us We're New Here ('69-'70)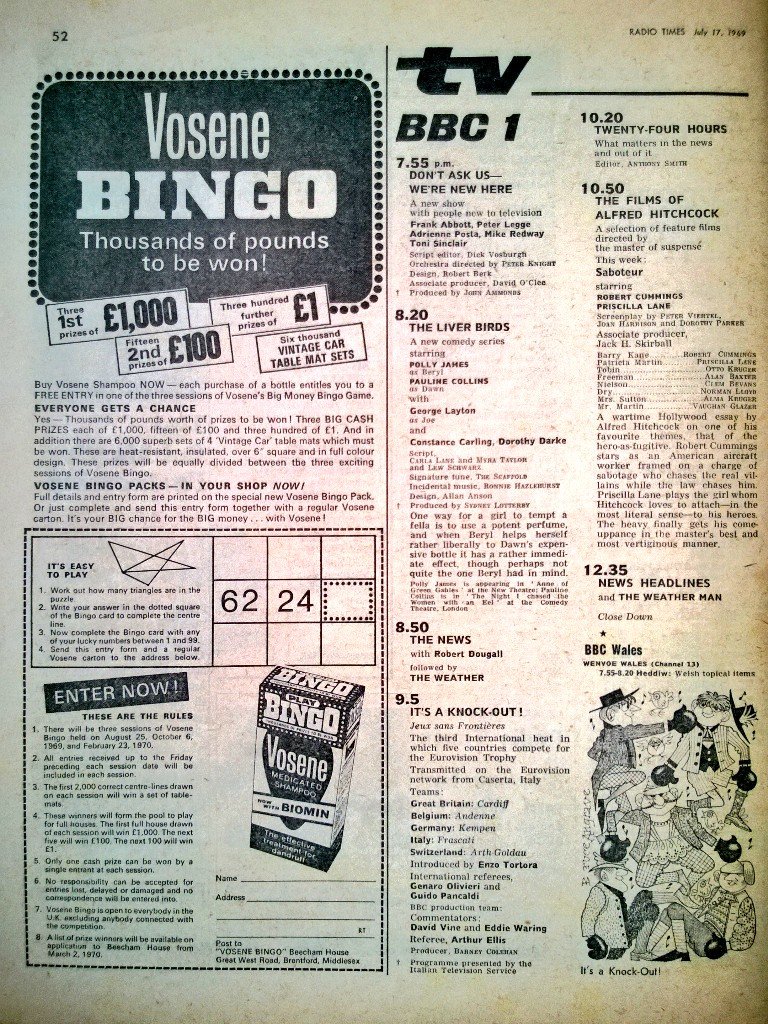 DAUWNH is another series which will be virtually forgotten by most people of a certain age, although I do have vague memories of it. Running for two series on BBC the idea was to showcase young, up and coming comedy talent. AP was certainly talented, we already knew that, and she was hardly up and coming having first appeared on TV in 1957, but the producers may well have thought the programme needed a safe pair of hands to anchor the young members of the cast. Same could be said for Maureen Lipman who had appeared with AP in Up The Junction a couple of years previously. With the exception of Richard Stilgoe, the other cast members sank without trace after the second series ended with the exception of a certain Mike Redway. For it was he who, during the 60s, recorded over 80 albums on Woolworth's Embassy record label, usually called something like 20 Top Hits! and depicting a pouting young girl in a bikini on the cover. Those were the albums we all bought as youngsters for 2/6 thinking they featured original recordings from the current pop charts, only to be devastated when it clearly wasn't The Beatles, Middle of the Road or even Lieutenant Pigeon singing their own hits. That man has a lot to answer for.
The show itself was a collection of quick-fire comedy sketches and musical numbers, none of which seemed that memorable. Although I do remember one sketch! The anchor of the show, Frankie Abbott, introduced the sketch which representied a famous film. We then cut to one of the cast dressed as a policeman speaking into his walkie-talkie. 'They're robbing the bank! You must get 'ere! You must get 'ere! You must get 'ere!' Cut to Frankie Abbott, 'The three must get 'eres.' You get the idea. AP was better than that.
3. Moody And Pegg ('74-'75)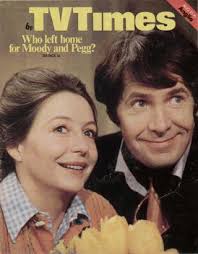 Occupying that 9.00pm Friday ITV (when ITV was good) slot that so many other memorable 70s series such as Budgie, Hadleigh, A Bouquet of Barbed Wire and Manhunt all occupied at some point in the decade. Moody and Pegg starred Derek Waring as Roland Moody, a recently divorced womaniser and Charlotte Cornwell as Daphne Pegg, a straight-laced civil servant who had moved to London from 'oop north to take up a new job. They find themselves living in the same house due to some estate agency shenanigans. The very clever script and the restrained nature of the drama created a classic which was very much of its time when directors and writers were exploring different types of pace and narrative. AP turned up in a few episodes as hairdresser and younger girlfriend of Roland Moody, Iris. Another excellent part in a superb series which didn't really receive the credit it deserved at the time. I remember as a 13 year old finding the buttoned-up Daphne Pegg really quite attractive and the theme music being very memorable, not to say poignant. The 'will they, won't they' element of the plot kept it interesting and I really can't remember if they did or not. Given the tone of the series though, they probably didn't. Which was sad.
4. Play of the Month: The Cherry Orchard ('71)
Just to show AP could do serious acting too, playing Doonyasha in Chekov's classic. This was a time when the BBC (and ITV for that matter) broadcast serious plays regularly during peak viewing times, before they became engulfed in cookery programmes, lurid mini-series and Mrs Brown's Boys.
As well as acting in many, many TV series, AP also appeared as a guest on myriad variety shows such Look! It's Mike Yarwood, It's Lulu and The Golden Shot (See Like A Bolt From The Blue..The Golden Shot below). Like Judy Carne and Magpie's Susan Stranks, she even appeared as a panelist on Juke Box Jury as a member of 'the young generation' (not Rolf Harris's post-pubescent dance troupe…). And for a whole other generation she was a more than familiar face on TV and was rarely off it. But from the late 80s her appearances became rarer and really only popped up occasionally on Give Us A Clue and various other nostalgia shows. Why this was I'm not sure. Maybe she wanted to spend more time with her family and on her teaching. Most of her credits in recent years have been voice contributions to children's series which although lucrative, deny us the pleasure of seeing her act at full tilt. These days, of course, she'd play much older characters which would be intriguing, not to say alluring.
Her most fascinating adventure, however, took place in the early 70s when she was invited to fly to the US to join the biggest show on telly at the time, Rowan and Martin's Laugh In (See Judy Carne below). One of its biggest stars Goldie Hawn was leaving and AP was pencilled in to replace her. As we all know it didn't happen and why this was has been obscured by the mists of time. One plausible reason was that she was about to marry singer Graham Bonnet and didn't want to commit herself to the regular journeys back and forward to the US. I wonder how she feels about this decision now given this marriage was short-lived? I am convinced she would have been brilliant in the show and who knows where she might have ended up as a result of it? We can only speculatate but I think we'd certainly have seen more of her on telly and in films than we did in later years.
Nowadays, I'd guess few people would remember Adrienne Posta without some heavy prompting but for a significant period she was one of the faces of the 70s. As well as appearing in iconic films and groundbreaking TV series she rubbed shoulders with towering pop stars of the time and even appeared on hit records. In short, she was sexy, funny, ubiquitous, a damn good actor and as 70s as Concorde, disco, platform shoes and Findus crispy pancakes. As a 70s icon, there are few whose credentials are more impressive or more memorable.
Adrienne Posta, we salute you !